Archive 2
Navigation: 1 2 3 4 5 6 7 8 9 10 11 Next Page
News & Updates
This page covers updates from August 30, 2004 - October 18, 2004.
Update, October 18, 2004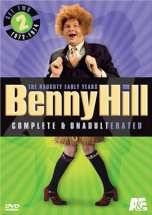 Benny Hill, Complete And Unadulterated
The Naughty Early Years - Set Two (1972-1974)
I just received an email from TVShowsOnDVD.com with details for Set 2 from A&E Home Video. In fact, just as I was ready to upload my review for the first set, I got the email for the second set. Is that timing or what? Here are the details I received. Remember, this info could change. Any changes that happen you will hear about right here.
Benny Hill - Britain's baron of bawdy buffoonery bursts into full bloom in this boisterous collection from his golden fan-favorite era, The Thames Years! Wildly popular all over the globe thanks to his trademark smirk and affinity for comic naughtiness, Benny rejuvenated the sketch-variety genre with his multi-award-winning THE BENNY HILL SHOW.
Satirizing everything under the sun, but sanitizing nothing, Benny and his crackerjack team of entertainers invented a squadron of crazy caricatures: lovable imbecile Fred Scuttle, avant-garde French filmmaker Pierre De Terre, and the verbally challenged Mr. Chow Mein. Backed by Benny's half-dressed flock of frisky foxes, THE BENNY HILL SHOW continues to stand the test of time by making the world laugh itself silly.
THE NAUGHTY EARLY YEARS: SET TWO
features all 10 riotous episodes from 1972-1974. Extras planned for this release (subject to change):
Eddie in August
Benny Hill's Cheeky Challenge Trivia Game
"Liner Notes" DVD Insert Booklet
You can also visit TVShowsOnDVD.com for details.While you are waiting for the next DVD to arrive, you can read my review for the first DVD.
Update, October 18, 2004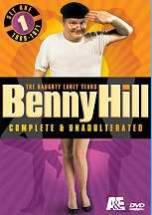 DVD Review: A&E Set 1 Review
I have now completed my DVD review for the first set from A&E Home Video.
Update, October 14, 2004
A special update this time. A detailed contribution from Benny Hill fan, William Brown of New York City. William has added specific dates and even names of cast members who participated in many sketches to the syndicated guide I have to the Benny Hill Show. Check out the page that includes Shows #1-#20. Of course much of the info was taken from the first Benny Hill set from A&E. Check the first page of the Syndicated Series Show Guide for more details. Thanks William!
William has also included details for the "Golden Laughter" series titles, as well as other commercially available programs as well.
"Golden Laughs" - (1/16/84)
"Golden Sniggers" - (4/25/84)
"Golden Smiles" - (5/27/85; final appearance of Jackie Wright in the series)
"Golden Yucks" - (4/27/88)
"Golden Chuckles" - (2/8/89)
"Golden Guffaws" - (5/1/89; Benny Hill's very last show for Thames Television)
There were additional VHS tapes of other episodes that didn't make it to DVD, to wit:
"Golden Chortles" (1/2/85)
"Golden Grins" (4/8/85)
"Golden Titters" (1/13/88)
"Golden Giggles" (4/5/89)
. . . titles of which, I.M.H.O., belie the deteriorating quality of the shows in that period. (The 1986 series was marketed in a compilation called The Crazy World of Benny Hill, a.k.a. Benny Hill's Crazy World.)
Moreover, sketches from 1/26/77 were in a video collection (only on VHS) called Benny Hill's Video Sideshow (formerly Best of Benny Hill, Vol. 3), which also featured sketches from 2/11/81 (i.e. "Down on the Farm," "Keep Young and Beautiful" Angels number), 12/26/78, and the Australian-made Benny Hill Down Under which aired in Australia on 10/11/77 and in Britain on 4/12/78.
William has gone to a lot of trouble to supply this info so we can have a clearer picture of how the Benny Hill Show was broadcasted and distributed commercially. Excellent work William. Thanks again!
Update, September 28, 2004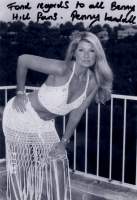 Penny Kendall Autographed Photos
Recently, Penny Kendall was very kind to send me a couple of autographed photos. These two photos have been added to Penny's Angel in the Spotlight page.
---

Ginger Tompkins Photo
A new character has been added to the Faces of Benny Hill Page. Suggested by Michael Swords.


New Angels Identified
Two more Angels have been identified. Thanks to William Brown for passing along the identities of these two Angels for us. Check the Who's Who of Hill's Angels, Page 2 for their entries. Thanks again William. Susan Daly (top) and Nola Haynes (bottom).
---
Update, September 27, 2004

Sue Upton: Angel in the Spotlight Interview:
Special thanks must go to Sue Upton for participating in an "Angel in the Spotlight" interview. Thanks to Erik Larsen for making this interview possible.
Update, September 20, 2004
Penny Kendall Short.wmv Note:
This download is no longer available. Sorry. This was a brief video of Penny Kendall that Tony Frederick put together when Hill's Angels.com was still up and running. Thanks again to Penny Kendall and Tony Frederick.
Update, September 18, 2004

Penny Kendall:
Angel in the Spotlight Interview
A former member of Hill's Angels, Penny Kendall was gracious enough to give a brief interview by email. A special thanks to Tony Frederick for passing my name onto her.
Site Map Archives
To conserve space and save on bandwidth, I have taken the liberty of dividing the updated Site Map pages into several pages. This organizes the updates in a way that makes it easier to find information for a specific time. Archive 1 contains the earliest updates.