Archive 1
Navigation: 1 2 3 4 5 6 7 8 9 10 11 Next Page
News & Updates
This page covers updates from August, 2003 - August 26, 2004.
Update, August 26, 2004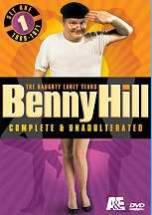 Benny Hill fans can celebrate!
Benny Hill, Complete And Unadulterated:
The Naughty Early Years - Set One is now available on DVD from A&E Home Video! The first set was released on August 24, 2004, contains 3 DVDs covering the years 1969-1971 with 11 episodes, as well as a couple of Bonus features. I will probably be doing a review for the set on this site at some point so check back from time to time.
Update, June 26,2004
Benny is finally coming to DVD from A&E Home Video!
I received an email from TVShowsonDVD.com announcing an entirely new series of Benny Hill DVDs. The first one is to be released on August 24, 2004 and will be a 3 disc set covering the years 1969-1971 with 11 episodes, as well as a bonus documentary: "The World's Favorite Clown", which has been available on VHS and DVD, as well as The Benny Hill Cheeky Challenge trivia quiz. Note: This information could change at any time.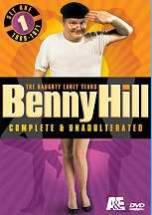 Benny Hill, Complete And Unadulterated:
The Naughty Early Years - Set One (1969-1971)
Details:
Studio: A&E Home Video
Release Date: 8/24/2004
Number of Discs: 3
Running Time: 9 Hours, 10 Mins.
Audio: Dolby Digital Mono
Aspect Ratio: 1.33:1 / Color, B&W
DVD Features:
Benny Hill: The World's Favorite Clown
Benny Hill Cheeky Challenge Trivia Quiz #1
Distributed by Newvideo
Here is some info on the set from TVShowsonDVD.com Irreverently and undeniably hysterical, THE BENNY HILL SHOW pioneered a naughty new direction for the sketch-variety show, one that pushed the envelope of television standards and inspired such contemporaries as "Saturday Night Live" and "Mad TV." Still considered a hoot and a half today, Benny Hill and his talented ensemble were unafraid to take a "tongue-in-cheeky" approach in satirizing society's taboos, from bawdy ballads and priceless pantomimes to dizzying double entendres and slaphappy head slapping. Benny's smirking antics, beautifully supported by his scantily-clad bevy of buxom babes, released a worldwide tidal wave of unrestrained laughter, winning THE BENNY HILL SHOW a hiller, mountain of accolades, including the British Academy's Best Comedy Show Award and two Emmy® nominations! Never broadcast in full-length form in the U.S., the only way to see these vintage Thames episodes of THE BENNY HILL SHOW in their entirety is through this DVD collection. THE NAUGHTY EARLY YEARS: SET 1 features all 11 uproarious episodes from 1969-1971, including three rare installments filmed in black-and-white!
Update for May 2004
Welcome to Benny's Place featuring Louise English and Hill's Angels. This site is now a tribute site to the late Benny Hill and his lovely ladies known as Hill's Angels. For a long time now, the focus has been on Hill's Angels and I think Benny himself deserves more attention. The Home Page now feature special mouse-over pic of the Angels for navigating more quickly to pages inside the site. I have done my best to make sure names for Angels are correct but please feel free to let me know if any of the names are incorrect. I've also added a nice gallery to the Compendium page and there is also a series Who's Who of Hill's Angels pages as well, with some short info on each angel and a link to the Internet Movie Database. I'm also going to be adding some pages with tributes for Benny Hill so keep your eyes on the site.
Update for April 28, 2004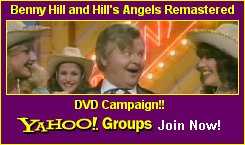 Benny Hill On DVD Campaign!
I just started this group and I hope many of you will sign up and help Benny Hill and Hill's Angels appear on DVD with remastered picture and sound! As well a DVD without bonus features wouldn't be as fun, so let's see that cast members like Henry McGee, Louise English, Sue Upton, Samantha Spencer-Lane, Clare Smalley and Corinne Rusell get involved in bonuses like Audio Commentaries and a Hill's Angels Documentary! Feel free to use this banner on your site and link to the Benny Hill DVD Campaign Group in Yahoo!
"This Life of Laughter" By Thomas Amo
It appears that Thomas Amo's site www.smilerscomedyplayhouse.com is no longer online. At one time it seemed that Thomas was going to write a book about Benny Hill. Let's hope that one day, Thomas will publish it!
New Petition:
Remaster the original Benny Hill Series of Specials
This new petition was just put together and is a request for the Benny Hill Show to be remastered with additional bonus features, including members of Hill's Angels. We can only see such a DVD happen if everyone signs it. Check the Ultimate DVD page for more details!!
Update for December 15, 2003:
Once again I have made some improvements to the site. I have enlarged the photos for those programs from the "Golden Greats DVD" to match all of the other photos on the site, giving the pages a more balanced look. I've also added pics of several VHS and DVD releases around the site, so take a look around. As time goes on, this site will continue to have better image quality and I plan to add more cool stuff in January. Merry Christmas and Have a Happy New Year!
Update for November 20, 2003:
I've added a few more names to the Hill's Angels Compendium, thanks to some submissions from Thomas Amo and a few other fans around the community. If you think you know of some names you can add to the Compendium, feel free to send me an email.
In other news, it's now official. Tony Frederick has closed down Hillsangels.com. If it weren't for Tony's tirelss efforts, I probably would not have felt the desire to build this website. We can all give a hearty thanks to Tony for bringing back a lot of special memories watching Hills Angels and The Benny Hill Show growing up. According to Tony, he has stated in one of the Yahoo! Groups that he may try to resurrect another version of the site one day. Let's all hope so! From all of us, Thanks again, Tony!
Update: November 14, 2003
With my brother's help, we have put together a guide to the syndicated series of the Benny Hill Show. This guide gives descriptions for all 109 shows, except for 2 shows that never aired due to signal failure from the network.
The Hill's Angels compendium is a new addition as well and was put together by my brother Andrew and lists all of the Hill's Angels Routines as well as the Love Machine segments and those segments where the Angels provided support for Benny.
Special thanks must go to my wife draceena for making sure my HTML was up to snuff and for adding a really neat Image Slide Show which you will find on the Angels Compendium page. My brother Andrew took some special time and effort to compile the Angels Compendium and it is presented here exactly as he put it together. Nice work Andrew!
Update: October 28, 2003
My most recent update includes the lyrics for "Higher In The Night" from "The Workout" which is on "Golden Sniggers". I've also taken the time to make sure that all of my pages are valid HTML 4.01 at the World Wide Web consortium and you will notice a logo on each page for the W3C. My wife, (draceena) again deserves special credit for time and energy in getting these pages up to snuff. This site has also been further improved so that it is viewable in most browsers, including most versions of Internet Explorer and Netscape Navigator. Since I've made these improvements it will be much easier to update my pages. I've also included a Gallery of many of the DVDs and VHS tapes available of Benny and the Angels in my "Ultimate DVD" page.
Update: October, 2003
Since my last update, I have made major improvements to the site so that pages will now download quickly and use less bandwidth. As I have stated on my Home Page, this site will remain as a non-profit web site indefinitely. With the faster downloads there will be fewer problems with the bandwidth running out.
Major improvements include the use of "Cascading Style Sheets" which gives each page a uniform design and makes the site easier to update in the future. I have also included a quick and easy navigation bar made with Javascript, (my Wife figured this out, I take no credit), and there is also an easy and handy Javascript window for you to view the photo galleries for a given page. This has the advantage of eliminating a long row of pics to download all at once and looks good.
I have also used an HTML Validator to verify my source code for each and every page. I do hope everyone can view this site easily with their browsers and if there is any problem, please drop me a line. The navigation bar which runs along the top of the page is, (I hope) viewable in just about any browser.
Of course, you will see the same DVD Reviews here as before and I have included a lot more touches to give the site a neat look.
I will be updating again, perhaps before Christmas and plan to include a complete Episode Guide compiled by my brother of all 109 Syndicated Episodes of the Benny Hill Show. Keep checking back and please drop me a line or post your comments in the Guest Book or at one of the Yahoo! Groups. Thanks. -threerandot
Update: August, 2003
This site now features in-depth reviews of the "Golden Classics" DVD as well as the "Golden Greats" DVD. There are also a couple of pages for Hill's Angels routines for the moment, but more will be added later. Basically I have songs, pics and lyrics for the routines. Later, more specific information I hope on which girl is which in each routine and any info I can get from people in the Yahoo! groups or anyone who wants to contribute.
As you can see I've improved the look of this site and have come up with a pretty simple and attractive layout. The information is on the right side of the page, links on the upper left to navigate and pics scrolling down on the left side. Place your mouse cursor on the pics for additional info on that pic.
Check out my in-depth reviews for the "Golden Classics" DVD as well as the "Golden Greats" DVD. Please note: the pictures throughout this site are enhanced using a picture program. There is a note about this in the "Golden Classics" Bonus Features and Summary page with more details.
I plan to do several pages with a pic for each angel and some background information on each of them. For many, the info will be short as many of the Angels have sort of disappeared. It would be wonderful to hear from them and just see what they did after the show.
I've also included a page for my vision of the "Ultimate DVD" of the Hill's Angels. I'm also going to look at the possibility of a series of DVDs covering the Benny Hill Show as it was originally aired in specials. Maybe start a petition.
Acknowledgements
A special thanks to draceena for her invaluable assistance in the design and building of this site. Her help is deeply appreciated. To my brother Andrito1974 for his contributions and to Tony Frederick and Erik Larsen and everyone in the Hill's Angels groups. And anyone else I may have forgotten to mention. -threerandot
Site Map Archives
To conserve space and save on bandwidth, I have taken the liberty of dividing the updated Site Map pages into several pages. This organizes the updates in a way that makes it easier to find information for a specific time. Archive 1 contains the earliest updates.