Archive 4
Navigation: 1 2 3 4 5 6 7 8 9 10 11 Next Page
News & Updates
This page covers Updates from March 22, 2005 to June 2, 2005.
Update: June 2, 2005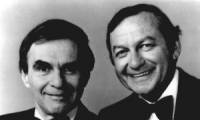 Wayne & Shuster Tribute
I have created a Tribute website to those legendary Canadian Comedians, Johnny Wayne and Frank Shuster. This used to be on Yahoo!, but I movied it, since Yahoo! provides such poor service. Johnny Wayne and Frank Shuster were the first comics from Canada to hit it big in the US and made a record number of appearances on The Ed Sullivan Show. For many of you, this will be an introduction to comedy that goes back even before Benny Hill and for some, a nice reminder. This will in no way get in the way of things here at Benny's Place, since the Wayne and Shuster is developing very slowly. I had looked all over the net for a good site dedicated to Wayne and Shuster, but couldn't find one and put together this tribute. Enjoy!
Update: May 29, 2005
Who's Who Of The Benny Hill Show
I have taken the Who's Who Of The Benny Hill Show and put all of the entries in alphabetical order. If you are looking for someone specific, simply place your cursor on the links on the right hand side of the page. A caption will pop up letting you know which names that link will take you to. Again, this will be updated again and again from time to time. William Brown has been a big help taking vidcaps and sending along notes for each cast/star that appeared on the show. Check back from time to time for new entries.
Update: May 27, 2005
Welcome To The New Web Space For Benny's Place!
This New Space is now Ad-Free and was graciously provided by Aglrond of The Torm Guardians which is a Dragon Court Clan. My wife Draceena, who enjoys these Role-Playing Games on the internet asked for some space for this site and Aglrond offered it freely. Now you should not have any problems surfing this site, since we no longer need to worry about my bandwidth. If there are any problems please feel free to send me an email. And once again, Thanks to Aglrond of the Torm Guardians!
New Layout and Design
Benny's Place has been updated to conform to XHTML, (EXtensible HyperText Markup Language). XHTML means that web pages must be formatted and written correctly. XHTML makes it possible for web pages to be viewed in almost all browsers, new or old. I have also added some snappy looking buttons to the left and right hand columns which gives the site a more balanced look. Note: For those who have trouble reading smaller print, use your browsers text size adjustment as this site will now display larger text if you so wish. Whenever you see a link, place your cursor on it for more info on that link. As well, the pages will now fit into just about any size browser. Hope you like the new look.
Who's Who Of The Benny Hill Show
The Who's Who Of The Benny Hill Show is an ongoing project which would not have been possible without the help of contributing editor William Brown. William sent me a whole bunch of pictures of many of those stars of The Benny Hill Show that people keep wondering about. William sent me their names and photos, as well as writing extensive notes for each actor/actress. I have added links to the Internet Movie Database for each star and there are 11 pages in all. This section will probably grow as time goes on so look for future updates. And a special thanks to contributing editor William Brown for all of his hard work!
Fan Photos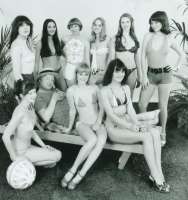 Benny Hill fan Murray Rosenberg sent along a few photos. Just click the two thumbnails for a larger view. You'll also see two photos for Helli Louise that Murray submitted on the Who's Who Of The Benny Hill Show Page 11. Thanks for the cool pics, Murray.
---
New Angel Identities
Contributing Editor William Brown has done more research and believes that this one-time Angel could be Cathy Holmes. Thanks, William.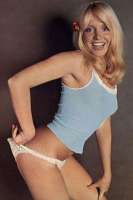 Cherri Gilham Links
William Brown also passed along a couple of links that belong to Cherri Gilham, one for her blog pages, which unfortunately, were taken down.
Cherri's Secret Diary
The Benny Hill I Knew, Loved and Abhorred
The Ultimate DVD
The Ultimate DVD page continues to be a place where updates to the series of DVDs grows. You can see all of the news for each DVD in the A&E series there.
Update: Monday, May 9, 2005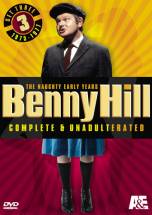 Benny Hill: Complete and Unadulterated
The Naughty Early Years Set 3 (1975-1977)
Street Date: July 26, 2005.
Will be reviewed when available
I was recently alerted from TVShowsOnDVD.com that the third installment of Benny Hill, Complete and Unadulterated is making it's way to a retail shelf near you on July 26, 2005. I will of course be reviewing that set when it becomes available!
---
Info from NewVideo.com
The most recognizable British comedian on the planet is back on DVD by riotous demand! Travel back to the freewheeling 70s and rejoice as Benny perfects his risque humor and bawdy slapstick in this third set of complete episodes from The Benny Hill Show. The landmark THE NAUGHTY EARLY YEARS: SET THREE features all ten original episodes from 1975 through 1977, including the fan-favorite Beach of Waikiki ballad and The Reluctant Bridegroom skit that took the sketch-variety show to lofty new heights. Never broadcast in full-length form in the U.S., the only way to see these vintage Thames episodes in their entirety is through this DVD collection.
Update, April 14, 2005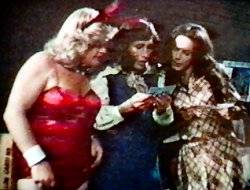 Benny Hill fan Murray Rosenberg was kind enough to send along this photo from the Archie's Angels sketch.
Update, April 9, 2005
A friend and colleague of Benny Hill has just passed away. (There was a page featuring an obituary at scotsman.com, "Comedy Writer Dave Freeman Dies at 82", but the page has been removed since this news item was originally posted).
Update, March 22, 2005
Well, a very big series of updates this time. We have episode information from contributing editor William Brown, as well as a bio he put together for Diana Darvey, some new photos for the Penny Kendall and Diana Darvey tribute pages, a small bit of news about set 3 and my review for the latest Benny Hill set from A&E. As well, you can view the Episode Guide to the Original Series. Enjoy!
Original Series Episode Guide
You can view a list of the sketches for every episode that has been released on DVD so far.
Set 3 Bonus: Eddie in August
Erik Larsen just got word from Devra Prywes of NewVideo that Benny Hill: Complete & Unadulterated - Set 3 will include the Benny Hill film "Eddie In August". Thanks for the news, Erik.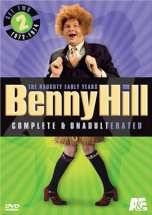 DVD Review: A&E Set 2
I have now completed my DVD review for the second set from A&E Home Video.
---
Site Map Archives
To conserve space and save on bandwidth, I have taken the liberty of dividing the updated Site Map pages into several pages. This organizes the updates in a way that makes it easier to find information for a specific time. Archive 1 contains the earliest updates.