Benny's Place Featuring
Louise English & Hill's Angels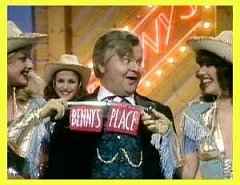 Benny's Place now has its
own domain name!
www.bennys-place.com
See the Site Map
Page for more details!
Celebrating the Legacy of
Benny Hill & Hill's Angels!
All New!
All of the messages from the
Previous Guestbook Service
have now been added to the
New Guestbook. Check it out!
All New!
Learn about the webmaster and the
site history in the About Me page
Contact
Contact William
Join my ezboard:
Benny Hill's Hotel Splendide
Browsers






Compatible with:
Internet Explorer
Netscape Navigator
Firefox and Opera
For Mac Users: Safari
Benny's Place has had
over 1,000,000 visitors!
New!






This site made by
a Proud Canadian
Contacts:
Contact William
Join my ezboard:
Benny Hill's Hotel Splendide


All Images ©HBO Video / Thames Television /
Fremantlemedia and their respective copyright holders.
© April 06, 2002