Rambings & Memories
by Andrew and Shawn Dow
My brother Andrew and I have decided to put down some of our memories and what lead to the creation of this site. Since Andrew was the one of the two of us to start buying and listening to Power Records, I decided to let him get the first word. Below is my article which is not as nostalgic, but looks more at the creation of this site and how it all fell together. Enjoy! You can quickly jump to either of these articles with the above links.
Power Records Presents
by Andrew Dow
I guess you could say that Power Records have been around me for my entire life. Since I was about 5 years old, I've always had Power Records. They are intertwined in my life so greatly they probably formed the basis of my personality. They sparked my interest in Old Time Radio dramas and comics. They even help me to appreciate B-Movies, because we all know that Power Records are pretty campy at times. This little write up is just about how the interest in creating a website dedicated solely to Power Records began and about preserving these extremely rare gems from our childhoods. To make them accessible to other generations as well so they will not be forgotten.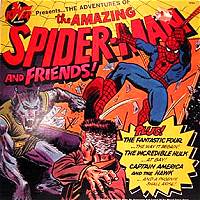 My first Power Record was The Amazing Spider-Man & Friends. My dad bought it for me at Sound Affair, a record shop run by a friend of my older brother, Rick. This was in the late 70's and early 80's. It was in the mall and my dad would leave me with my brother Rick on a Saturday afternoon while he did the grocery shopping and I would look at all the cool hi-end stereo gear and the records for sale. The Power Records hung on a big display rack at the front of the store to attract the kids. Of course, I fell for it hook, line and sinker. So, week-in, week-out, I would eventually get one or two, here and there.
However, the stories I am remembering are of how I lost these records. I was about 5 when I got the Spidey record and rather than just listening to it, I decided it would be more fun to Roll it around on the floor! Ahhh!! But hey, I was only 5. I regret it to this day. It was the original version in stereo with all four stories and not the mono version with The Incredible Hulk At Bay missing.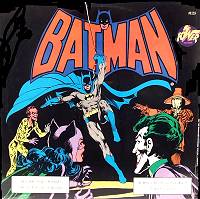 My next great loss was Batman, Volume 1. I loved this record to death. I played it all the time and thought it was amazing. One day while I was getting ready for school I put the record down on the couch. I was doing something else, getting ready for school, when I sat down ON THE RECORD! I was so upset I don't think I went to school that day.
It seems you only remember what you lose and how much it meant to you at the time. It was like the world ended. Now that I am much older and wiser, (I hope), I know that it wasn't.
Years later, Shawn and I, who also loved the LP's, were sitting around and talking with his girlfriend, (now wife), Stacey, about how nice it would be to have all the Power Records on CD. This was in 1990 or 1991 when making your own homemade CD was a pipe dream. I lamented about how some of my LP's were gone, but that I still had a lot of them in pretty decent shape. So, the dream to preserve them to CD and collect all the rest of the titles was nowhere near the realms of possibility. So, we forgot about it.
In 1994, just after I got out of Technical school, Shawn and Stacey came over and asked to borrow my Power Records collection. All of it! I said, "What are you guys gonna do, tape 'em?" They said they were and that they'd only have them over the weekend. I'm not much for loaning stuff that is this rare, but I knew it was in good hands, so off they went to put them all to tape. I didn't have a good tape deck at the time, so I didn't need any copies myself. So, this was the first real step in trying to preserve Power Records.
In 2000, I bought a really nice tape-deck. A JVC WT-314, a dual deck that was loaded in terms of features. So, I bought a bunch of Sony CD-IT 100's and put all of my Power Records to cassette in 2001. This is a key factor in my story.
Shawn and Stacey were living in Moncton by this point and had internet access. I still didn't. Shawn told me about the Power Records Project Yahoo! Group. I couldn't believe that such a small niche like Power Records had its own fan club. He downloaded a whole bunch of stuff and put them to disc. I mentioned to him over the phone of how it would be nice to have a website just for Power Records where people could get everything in one spot. Also, to try to get better versions of some of the LP's. Shawn had already had a lot of success with his Benny Hill website, so why not just copy the format layout and make one for Power Records? So, Shawn set to work and created the webpage. He wanted some of the LP's that I had, but I wasn't about to ship them by mail. So, I thought why not mail the cassette versions of the albums. The tapes were never played and were mastered fairly well. I shipped them to Moncton and Shawn started to make CD's out of them and mp3's to put up on the webpage.
Around 2004, I managed to finally get a half-decent computer and sound card. So, I got to thinking. If Shawn has all of the Power Records up from cassette masters, maybe I should do them straight from the turntable to computer with no generation loss? So, like Shawn, I embarked on putting every Power Record I had to disc, and then converted them to 320 kbps mp3s. This took a little while. I did nothing to alter the sound of the original LP's. No de-clicks or subsequent re-mastering was applied. Straight copies from the original source. The turntable I used was my Hitachi Belt Drive HT-320, my Harmon-Kardon HK-670 receiver, and an Ortophon Super OM-10 Magnetic cartridge for the pick-up stylus. All the .wav files were mastered at 44.1Khz, and the mp3's were made later at 320 kbps.
To beep or not to beep? That is the question.
For a child learning to read, the beep to tell the child to turn the page is a great idea. However, for an adult that can already read, the beep can be a bit annoying. Now, for purists sake, the beep is part of the original story for the BR and PR series. But with the '81 series LP's that had four stories on them, there were no beeps. I generally bought these editions because you got more bang for your buck. Four stories instead of two, or one. But you missed out on the comic. The beeps on all my editions of Power Records have been edited out. I used AudioView to make sure I could accurately join the original audio together across the gap seamlessly. But since there is so much surface noise on the original LP's due to cheap electroplating and pressing, it was sometimes hard to hear real quiet from the original recording. After some doing, I am about 99.9% confident that all of my edits for these gaps is right on. It's also so much more fun to hear the story flow without the beep. Just my preference, I guess.
In 2007, when I finally had a High-Speed Internet connection, Shawn asked if I could upload my mp3's to his website. I said no problem. So we shopped around for file hosters. Rapidshare has download limits; others have a 30 or 90 day delete rule if your file isn't accessed. We settled on Mediafire. Its a good hoster so far with only the occasional problem. On Mediafire, there have been ## number of downloads and ## amount of bandwidth used. This is since September, 2007! It just shows how much interest there is in Power Records.
Thanks for listening to some ramblings from a grown man who still likes his Power Records. I will close with the most stirring words from that company "Power Records Presents...!"
Andrew Dow
February 13th, 2007
Memories and the Making of this site
by Shawn Dow
As to my memories for Power Records, I do remember Andrew enjoyed spending time at the Stereo Shop with our older brother Rick and would come home with a new record here and there. I also remember Andrew rolling the Spider-Man record across the floor when I came into the living room the same day he brought it home. I basically told him not to do that or it would wreck the record and if he wanted to keep it for a long time, he had better take care of it.
As time went on, we kind of developed an appreciation for these unusual recordings. They filled a void for us, living out in the countryside. We would play them sometimes at bedtime.
As years went by, we wanted to know more about Power Records and the Internet was naturally the first place to look. I discovered the Power Records Project Yahoo! Group and there were several other pages on the Internet devoted to Power Records, but most of them were not sharing audio files. The Power Records Project was probably the first and one of the few to do so.
I had learned a fair amount about building websites since my wife and I had moved from my home town of Saint John to Moncton and I had built a very extensive Benny Hill website called Benny's Place featuring Louise English and Hill's Angels. With my new skills at building sites, I thought it would be great to put up a Power Records Discography on the Internet. This was a basic webpage listing all of the recordings in the discography.
After a time, we gathered quite a few of the Power Records recordings Andrew didn't have on LP from the Yahoo! Group. We eventually gathered the comic books to the many stories as well. These we downloaded, sometimes in .PDF format or as a series of .jpg images of each page.
I thought it would be nice to have a Blog associated with the website. In fact, I had put the Blog together before I had even built this full scale website. I started the Blog in January of 2006 and the full website began a year later in January of 2007. You can thank Canadian winters for all of this extra time I have devoted to building these pages.
For a long time, it was necessary to host all of the audio files and Comic Book files on sites like www.freefileupload.net. Unfortunately, most of these sites would delete any files if they were inactive for a long period of time, say 30 days. It was finding the file-hosting site Mediafire that made the biggest difference, since even inactive files are rarely deleted. This makes maintaining the files online much easier.
Finally, another hurdle was still yet to be overcome. Andrew and I had both toyed with the idea of not only providing the audio for all of the stories, but also the comic books. We thought that making our own PDF files would be the way to go, but this proved rather difficult. It was Andrew who discovered how easy it was to make CBR, (Comic Book Reader) files. With a very good Comic Book Reader program installed on your computer, CDisplay Sequential Image Viewer, viewing the comics has never been easier or more enjoyable. A master stroke from Andrew. We can now enjoy Power Records in a way that is easier and more accessible than ever before.
I do keep wondering if we will ever hear from any of the people who were associated with the making of Power Records. Peter Pan Industries is based in Newark, New Jersey and have a fully active website. I don't think it is likely they will ever make Power Records commercially available again. Thankfully, we have these memories digitally archived for future generations. Shazam!